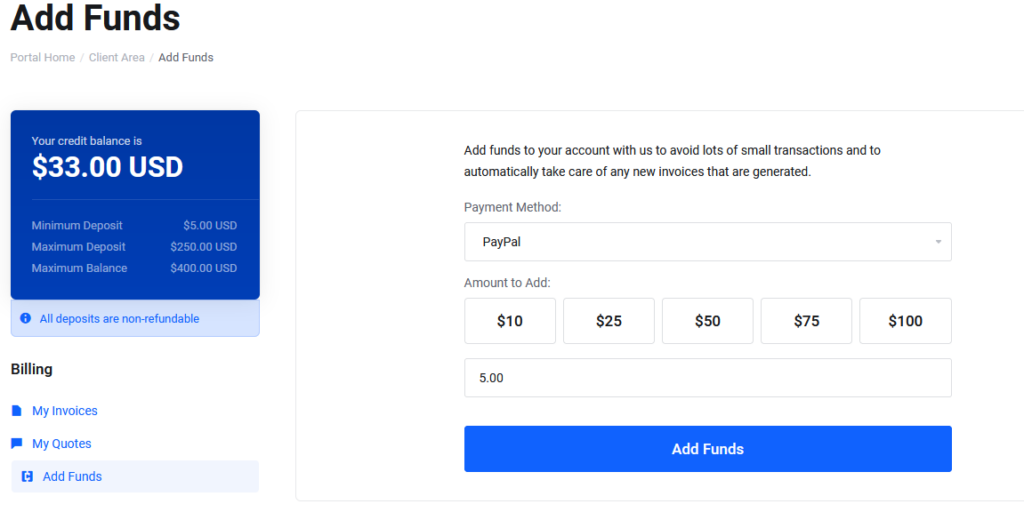 How is my server billed: #
Servers are billed depending on the billing period you pick during check out. We offer 4 billing cycles:
Monthly
Quarterly
Semi-Annual
Annual
For example, if you purchased a server on the 1st of the month and picked a monthly billing cycle, your next due date will be the 1st of the next month.
What Payment methods do you accept: #
We accept paypal and all major credit cards. We also accept crypto payments via BTC. In order for you to quality for crypto payments, you must have already made at least one payment via paypal or credit card.
When will I receive a renewal invoice for my server: #
Our system generates a renewal invoice 14 days before your due date and you will receive an email notification.
What is a Due Date: #
A Due Date is the date on the month by which you must pay for your services in order to avoid service interruptions.
What happens if I forget to pay my invoice: #
If you forget to pay your invoice by or on your due date, our system will still keep your server online for additional 3 days. If no payment is received by then, our system will suspend your server and send you again a reminder. From that time our system will keep your server for another 4 days. If no payment is received by the end of day 4, we consider the server abandoned and server is terminated. Please note, once server is terminated, all data is permanently lost and can not be recovered.
How can I add funds to my account: #
You can add funds to your account by hovering over the Billing icon on the left hand side vertical menu, then clicking the Add Funds link and follow the instructions on screen.
The funds you add to your account do not expire and can be used to pay for your future invoices or purchases.
Once an account has funds, they will be used as primary method of payment, until they run out.
Can I switch billing cycles: #
Yes you can switch to any billing cycle at any time. Since a sales manager will have to make the changes for you, to do so please open a ticket on our sales & billing helpdesk
Do I keep my discount code if I upgrade your server: #
In most instances yes, you will keep your existing discounts.
Can I upgrade my server: #
Yes, please follow this article.
My service is suspended for overdue payment: #
If your service has been suspended for non-payment, simply make a payment via your dashboard and upon receipt, which is normally instant, your service will be automatically renewed and unsuspended.