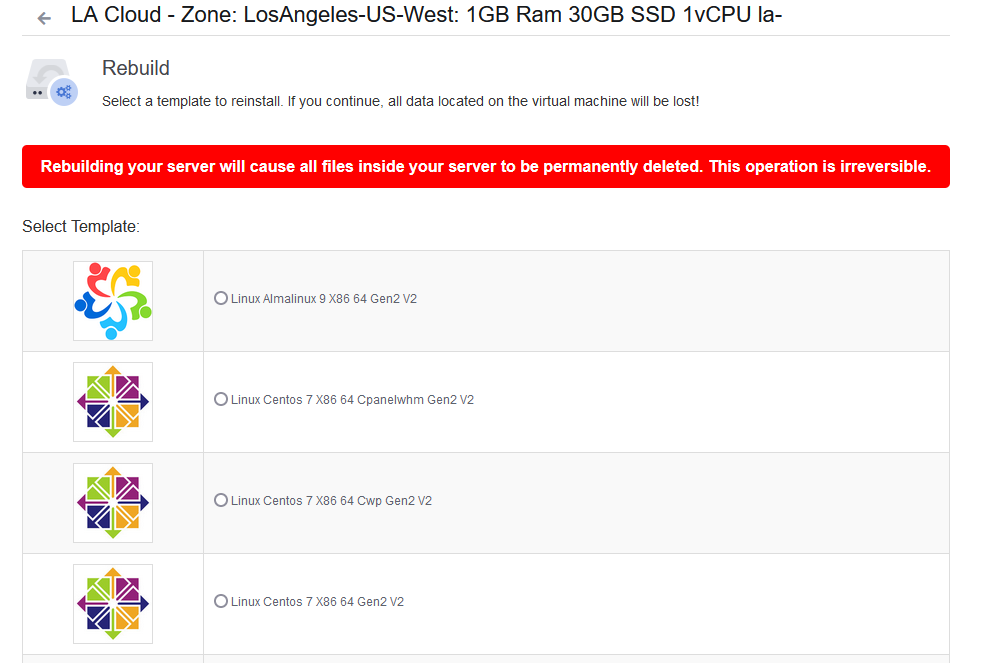 Server Rebuild #
The rebuild screen allows you to rebuild/reinstall your server clean and start over from scratch. Please note that this process is destructive and will destroy all data inside your server. Please backup any important files first before proceeding. This process is irreversible.
Operating systems. #
Please note Cloudfanatic does not allow Windows to be installed on any of our instances.
We offer variety of operating systems and 1-Click Apps. To start the rebuild process simply select the operating system you want and click the Rebuild button at the bottom. The process will take about 5 minutes to complete. Operating system names explained below:
RockyLinux #
RockyLinux 9 – Linux Rockylinux 9 X86 64 Gen2 V2
AlmaLinux #
AlmaLinux 9 – Linux Almalinux 9 X86 64 Gen2 V2
cPanel/WHM 1-Click Appliance – Linux Almalinux 9 X86 64 CpanelWHM Gen2 V2
CentOS #
CentOS 7 – Linux Centos 7 X86 64 Gen2 V2
CentOS Web Panel 1-Click Appliance – Linux Centos 7 X86 64 Cwp Gen2 V2
CentOS Stream – Linux Centos 8 Stream X86 64 Min Gen2 V2
Debian #
Debian 10 – Linux Debian 10 X86 64 Min Gen2 V1
Debian 11 – Linux Debian 10 X86 64 Min Gen2 V1
Ubuntu #
Ubuntu 18 – Linux Ubuntu 18.04 X86 64 Min Gen2 V1
Ubuntu 20 – Linux Ubuntu 20.04 X86 64 Min Gen2 V1
Ubuntu 22 – Linux Ubuntu 22.04 X86 64 Min Gen2 V1
Azuracast 1-Click Appliance – Linux Ubuntu 20.04 X86 64 Azuracast Gen2 V1
Cloudron 1-Click Appliance – Linux Ubuntu 20.04 X86 64 Cloudron Gen2 V1
CyberPanel 1-Click Appliance – Linux Ubuntu 20.04 X86 64 Cyberpanel Gen2 V1
GitLab 1-Click Appliance – Linux Ubuntu 20.04 X86 64 Gitlab Gen2 V1
iRedMail 1-Click Appliance – Linux Ubuntu 20.04 X86 64 Iredmail Gen2 V1
Ubuntu Lamp 1-Click Appliance – Linux Ubuntu 20.04 X86 64 Lamp Gen2 V1
Moodle 1-Click Appliance – Linux Ubuntu 20.04 X86 64 Moodle Gen2 V1
NextCloud 1-Click Appliance – Linux Ubuntu 20.04 X86 64 Nextcloud Gen2 V1
OpenVPN AS 1-Click Appliance – Linux Ubuntu 20.04 X86 64 Openvpnas Gen2 V1
OwnCloud 1-Click Appliance – Linux Ubuntu 20.04 X86 64 Owncloud Gen2 V1
phpMyAdmin 1-Click Appliance – Linux Ubuntu 20.04 X86 64 Phpmyadmin Gen2 V1
Plesk 1-Click Appliance – Linux Ubuntu 20.04 X86 64 Plesk Gen2 V1
Webmin & Virtualmin 1-Click Appliance – Linux Ubuntu 20.04 X86 64 Webirtualmin Gen2 V1
WikiJS 1-Click Appliance – Linux Ubuntu 20.04 X86 64 Wiki Gen2 V1
WordPress 1-Click Appliance – Linux Ubuntu 20.04 X86 64 WordPress Gen2 V1
Zabbix 1-Click Appliance – Linux Ubuntu 20.04 X86 64 Zabbix Gen2 V1