In this article we will show you how to control your 10Gbps Cloudfanatic cloud instance. From this page you have full control over your server, including functions that can cause irreversible data loss. Let's begin:
Overview #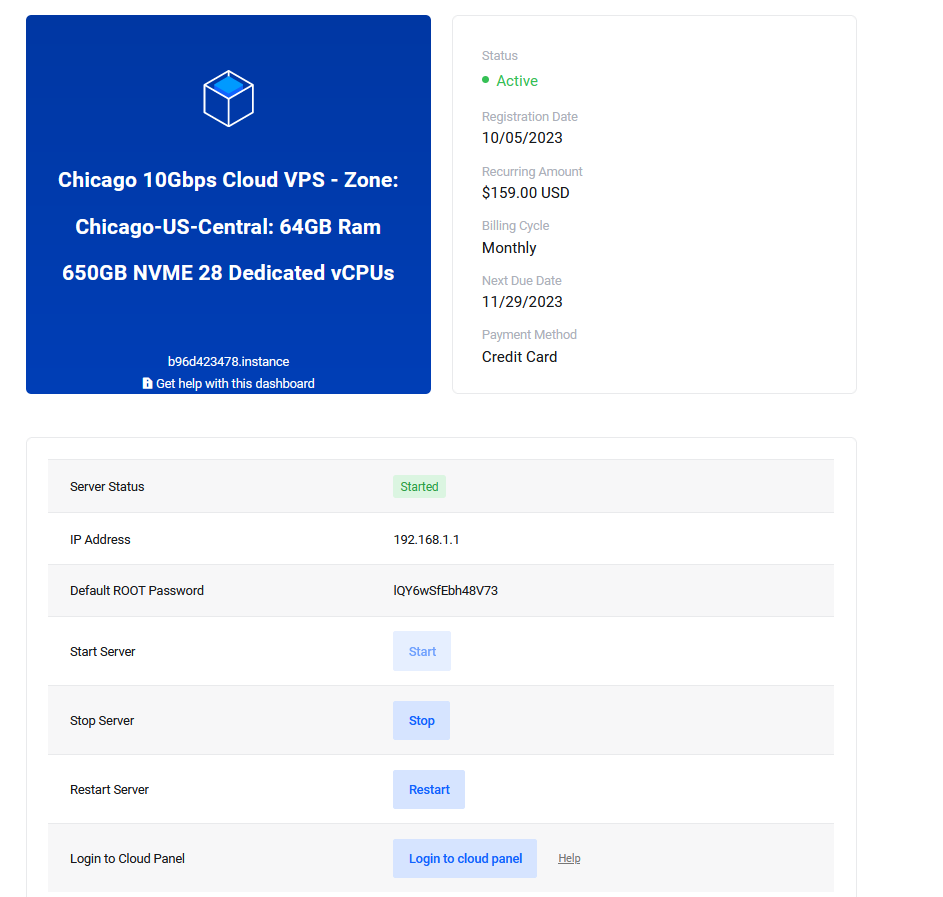 At the top and in the middle of the page in the blue box you have a quick overview of the billing details of your cloud instance. At the top you have your cloud instance name:
Chicago 10Gbps Cloud VPS – Zone: Chicago-US-Central: 64GB Ram 650GB NVME 28 Dedicated vCPUs
From the name we see two important properties:
The datacenter/location of the server – Chicago
The specs of the server – 64GB Ram, 650GB NVME Space, 28vCPUs
To the right of the blue box we have a quick overview of the billing details:
Status Active indicates our instance is in good Billing standing
Registration date indicates when we purchased the instance
Recurring Amount indicates how much the instance costs
Billing Cycle indicates how often we pay for our instance
Next Due Date indicates when we need to pay next for our instance
Payment Method indicates the way you pay for your instance
To the left of the blue box you have two additional options:
VPS Addons

option will provide an overview of the available addons you can purchase for your instances.

Request Cancellation

link allows you to cancel your instance.
Server Functions #
Continuing below we have our cloud instance functions:
Status Started indicates our instance is booted up.
IP Address is the primary IP address of your server. It is assigned to your server automatically by our system upon sign up and can not be changed. This is the address you would use to SSH into your server.
Root Password contains your default password for username root. It is randomly generated secure password. This is the password you would use to SSH into your server for the first time with username: root.
Start Server button will start your server up if server is shutdown.
Stop server button will initial ACPI shutdown.
Restart Server button will initiate ACPI reboot.
Login to Cloud Panel button will take you to the advanced management page for your server from where you can perform additional tasks such as reinstalls, take snapshots, take backups, etc. To learn more please navigate to: ADVANCED MANAGEMENT FOR 10GBPS CLOUD SERVERS